PCPA RECITAL CENTRAL
All recital info centrally located in one place. All emails, notes, details, and updates for the upcoming dance recital. Scroll to bottom of page for all the information.
ALL EMAILS SENT REGARDING RECITALS/REHEARSAL
PICTURE DAY @ STUDIO
Sunday June 10, 2018
2:00 pm – 8:00 pm
Call Times Vary
Email will be sent with call times for each class.
Picture day participation is highly encouraged but ultimately is optional.  
Even if you aren't interested in purchasing a package it would be great to have your dancer in the group shot. The event is also good prep for costume, hair, and make up details preceding dress rehearsal. 
EXTRA TICKETS
Remember you get two tickets per dancers included in the recital fee. We encourage you to come see alternate shows your dancer is not in as well! Come cheer on friends, and see other numbers. Each show will be different. 
Wednesday May 2, 2018

– each family will be able to order 2 more tickets at this point

Wednesday May 9, 2018

 – second round of ticket sales – First come first serve. No limits to ticket volume.  

Wednesday June 6, 2018

 – tickets will be prepped, kitted, and ready for pick up at the reception desk.   
Link to order tickets will be emailed to families prior to date.
PUT THE FOLLOWING DATES, TIMES, ADDRESSES, REMINDERS IN YOUR CALENDARS PLEASE. INFORMATION IS ORGANIZED BY SHOW DAY AND TIME.  ALSO BEST TO KNOW YOUR CHILD'S NUMBER(S) AND SHOW(S). 
MAP OF SKYLINE COLLEGE / PARKING INSTRUCTIONS
The entrance to the campus is at the bottom of the map. When you arrive at the campus you will turn left and head towards lots C, D, or F. The theatre is located in building 1.
Parking Lots C and F will have the most parking. Parking lot D is small.
Parking Lot E is staff only and will be a drop-off only parking lot for older dancers that can check themselves in. They will enter theatre through a side entrance. No parking or leaving vehicles unattended.
FRIDAY: Parking will be $3 – machines accept credit/debit card and cash.
SATURDAY / SUNDAY: Parking will be FREE. No need to purchase parking passes.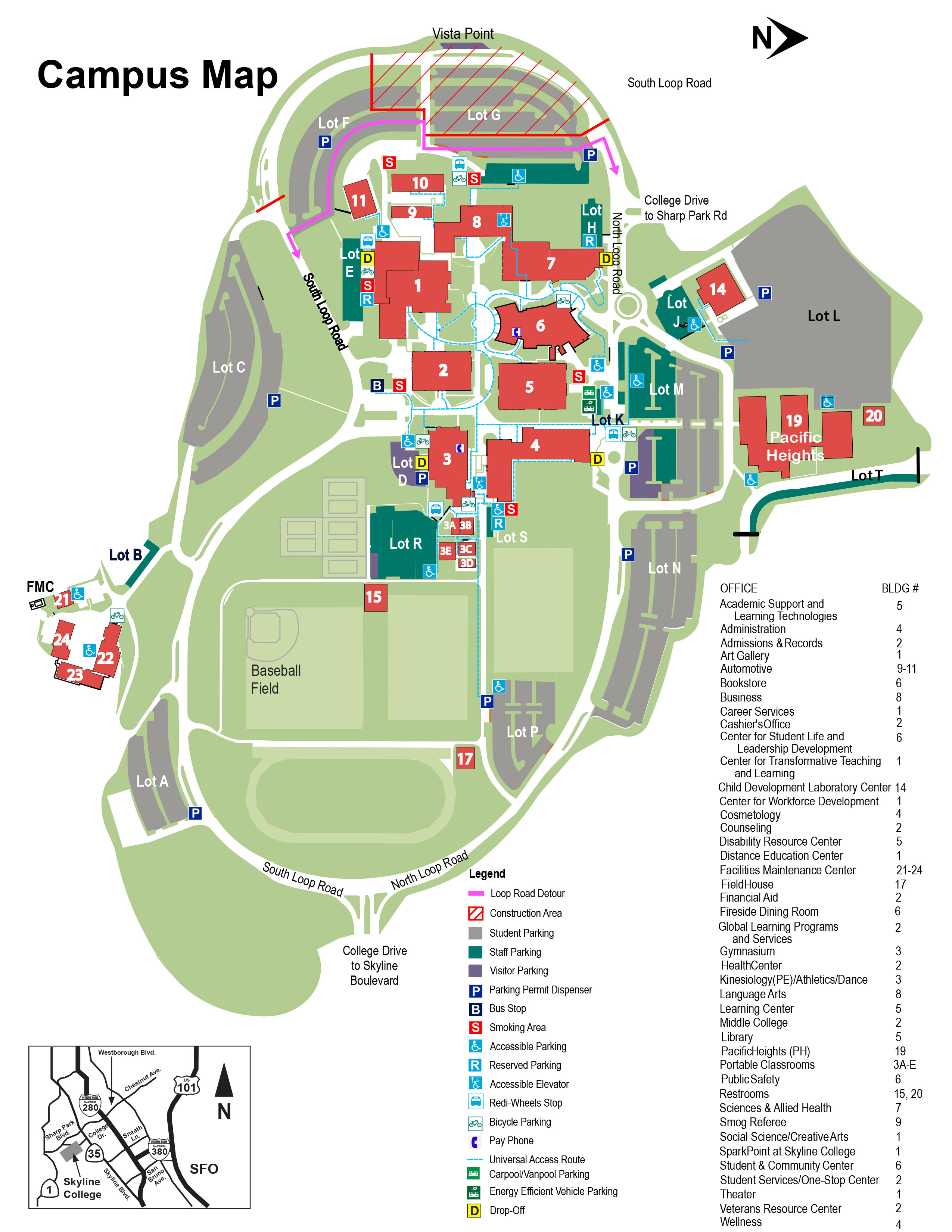 GET READY CHECK LIST / REMINDERS
Organize and prep costumes that have come home. 
The costume distribution will be close to finalized in the next month. 
Label tags with your dancers name. Not just the garment bag but the tags inside the clothing items. With many dancers matching and changing in one space it can be easy to confuse items. 
INDIVIDUAL CLASS COSTUME SPEC SHEETS
You should have received a spec sheet via email, which revealed costume and theme connection. We also emphasized performance shoes (you should have these and be wearing them to class please) and sent music edits for practice at home.
We will send these spec sheets again in May with the emphasis changing to Costume, hair, make-up, and accessories. The spec sheets are not listed here as we feel it would be confusing to send all the spec to everybody. These will be sent via email to each class/group.
Please let us know if you have any questions. We are happy to go over those with you if need be.
PARENT VOLUNTEER INFORMATION
Each recital we reach out to specific parents to help us back stage. If you were contacted by Jana to help backstage you have/will receive emails separate from recital emails. We have not added them here to avoid confusion. Please contact the office if you know you are a parent volunteer and think you may have missed something important.