Welcome to recital central!
WHAT WILL YOU FIND ON THIS PAGE?
All recital information including time, dates, and location. 
Link to our "DetailByNumber_Parent_Recital" file which lists exactly what you need to wear on stage. (Hair, Make Up, Costume, Shoes, Accessories) for your individual numbers.
Links to every email sent regarding recital. Miss an email? They will be linked to on this page. 
We are grateful that the kids will have a chance to showcase their season with performances on stage and also on zoom for those that need a virtual option. 
Please read through your emails carefully so we are all on the same page heading into the recital weekend.
This recital will run differently than our traditional model but it will be very fun and memorable! 
Mandatory Classes / Rehearsal Week
The class prior to a show or recital is always mandatory. If you are participating virtually, the class preceding the dates below will be your mandatory class. 
PLEASE ATTEND CLASS (BOTH ZOOM AND IN PERSON) IN FULL HAIR, DRESS, AND MAKE UP ON THE FOLLOWING DATES:
Saturday – 6/19/21
Monday – 6/21/21
Tuesday – 6/22/21
Wednesday – 6/23/21
Thursday – 6/24/21
Friday – 6/25/21
The dates above will act as the performance we will record for virtual dancers, and as a dress rehearsal for those dancing in-person on the weekend of 6/26 – 6/27. 
ATTENDANCE IS MANDATORY FOR ALL
LIPSTICK NOTE: Lipstick will only be needed for those dancers who perform at home on zoom, and do not need a mask. You will not need lipstick for the in-studio recording, or to be on stage since you will be masked.
INDIVIDUAL CLASS COSTUME SPEC SHEETS
Have a question about your costume? Everything you need including hair, make up, accessories, and costume pieces.
Access the "DetailByNumber_Recital_Parent" file here- CLICK HERE
ALL EMAILS SENT REGARDING RECITALS/REHEARSAL
If you are not receiving the emails listed above, please check in with our office so we can make sure we have the correct email on file.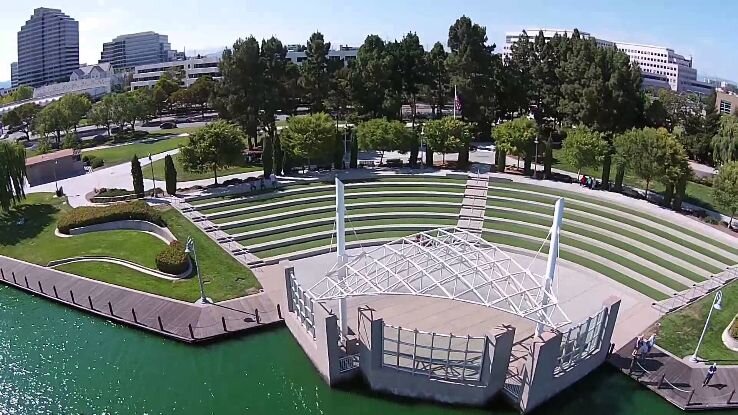 Leo J. Ryan Amphitheatre
650 Shell Blvd. Foster City, CA 94404
Our recital will be held at the Leo J. Ryan Amphitheatre in Foster City. While it isn't a theatre it does provide a gorgeous backdrop for our dancers. We are excited to see them all get on stage again!
For additional info, including maps and parking, please scroll down this page.
GET READY CHECK LIST / REMINDERS
Organize and prep costumes that have come home.
Label tags with your dancers name. Not just the garment bag but the tags inside the clothing items. With many dancers matching and changing in one space it can be easy to confuse items.
Write names/initials INSIDE of shoes, NOT on the bottom. Audience will see bottom of your shoe.
For tips on how to make a proper bun, refer to the videos on this page.
BACKSTAGE PARENT VOLUNTEERS