Fall Registration Opens 8/26 to new Families
Come Dance With Us in San Mateo, CA (currently on zoom)
Our new 2020-21 schedule is off and running! There are still spots available. Now is the time to save your spot for when we are allowed to return to in-person classes. Lots of new, fun classes have been added to the schedule. Scroll down to learn more.
View Current Schedule
Bubble Cohort Info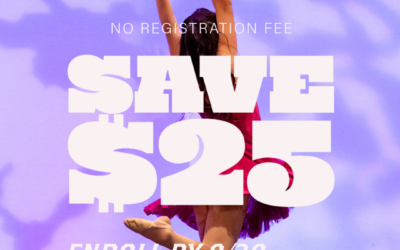 No Reg Fee In September It's back-to-dance season! To celebrate we are waiving our $25 annual registration fee if you enroll by September 30, 2020. All classes are currently on zoom, but we are planning to transition back into the studio in stages once we are allowed....
Covid-19 Updates
As of 8/29/20
We were in contact with the county this week. Under current orders, indoor dance instruction is not allowed. Anyone running indoor classes faces fines or closure. While we would love to be back, we don't want to risk that or people's health. We will be back indoors when allowed. All classes will continue on Zoom.
Current Class Schedule
Ages 5-18
Our entire schedule is currently on Zoom. We do have a plan in place for in-person classes. We are waiting for the county to give the green light. The fall 2020 schedule has been released. Most current classes will continue unchanged. Priority registration opens 8/15. All new dancers may register 8/26.
Performance Team Auditions!
Jazz, Hip Hop, Lyrical, and Musical Theatre
We will be holding auditions on Zoom the week of 9/8-9/14, 2020. Anyone interested should email our office. If you are eligible we will send you link for your day and time. Click the link below to read our requirements from 2019-2020 season. We will update that page soon with this season's information. 
PCPA is a creative and performing arts program that requires dancers to be both artists and athletes. Our ultimate goal is to instill dance intensity and drive inspired by much more than trophies and sequins. We believe in building strong fundamentals, technique, and discipline through dance training and performance experience. You can count on building a respect and love for dance whether you are training for personal or professional goals.
Principal Creative & Performing Arts has won numerous awards from publications like Redtri.com, Chatterblock.com, and Bay Area Parent Magazine. We have been voted Best Dance School for 7 consecutive years 2011-2017! Earning us a Hall of Fame Award from Bay Area Parent. Come find out why we are the studio of the decade!
My girls love each and every one of their teachers. This is their home away from home as between the two of them, they take 16+ hours of dance classes per week.
Classes are amazing! ... Not only my kids are happy every week when we go there but now I'm also a part of the dance family.
– Daniela G., Yelp Review
Love this place! My 2 kids have been dancing here for a few years and have always had great experiences.
This dance school is a special place... I've been impressed with the experience of the instructor and the quality of the instruction.